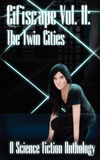 Let's just get straight to the point here.
Cifiscape Vol. II: The Twin Cities
is released. It's out.
You can buy it on
Amazon.com
.
It's available on
Barnes & Noble
.
Soon it will be available in local bookstores in Minneapolis.
Seriously, follow the links, buy the book. It's out now.